What is Full-Bleed Printing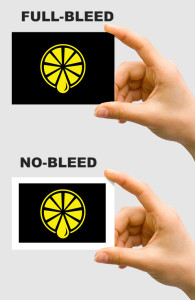 This term refers to any artwork that extends to the edge of the page. Whether it's a photo or background, if any artwork touches any edge of the final print, you need a bleed. Full-bleed refers to when artwork touches all four sides such as a colored background; partial-bleed is when only 1-3 edges are touched.
Professional printers usually print multiple copies of an images on large sheets of paper and then trim them down to the correct size. Letter size documents are printed 2-up on 12×18 sheets and then trimmed down to 8.5×11. However, paper is finicky. It grows, shrinks, and/or warps from humidity and each sheet in a package can be in a different level of change depending on where it is in the stack. This means the print on any given page can shift in any direction up to a tenth of an inch compared to other sheets in a stack. If your 8.5×11 document was designed only to 8.5×11, this shifting would result in 0.1″ of white space on one or even two edges of the some of the prints. Clearly not what we want!
How do I achieve Full-Bleed Printing?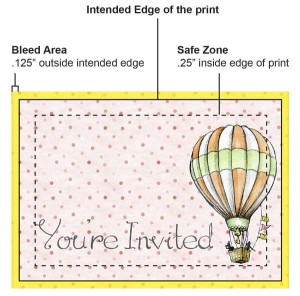 First, it's important to understand that shift happens. Most print technology lays toner or ink particles on a page with micrometer precision but the mechanical workings of paper is far less dependable. Paper is finicky and can grow, shrink, and/or warp from humidity alone. For this reason, the print on any given page can shift 0.05″ to 0.10″ in any direction. If the design was exactly the size of the final trimmed piece, this kind of shift would result in 0.1″ of white space on one or even two sides. Clearly not what we want!
How to achieve full-bleed results in two steps:
Extend the Bleed
To avoid this white space, you must extend your bleed beyond the finished edge of the page for at least 1/8th of an inch (sometimes more for larger pieces). We call this the bleed margin. An 8.5×11 document has a bleed margin of 8.75×11.25". A 4×6" postcard has a bleed margin of 4.25×6.25". All background colors and photos that bleed off the edge will need to continue on to the bleed margin in the design. Unfortunately, the does mean any photo that bleeds to the edge of the page must have at least 0.125" trimmed off its outside edge. Make sure you select images that have unimportant space along the edges so nothing important will be trimmed off.
But the shift goes both ways…!
Keeping Things Safe
If that 0.1″ shift caused some white space to appear on one side of the print, that means it also trimmed 0.1″ into the design on the opposite edge! Therefore professional printers recommend safe zones. The safe zone is generally twice the distance from the edge of the page as the bleed margin but on the inside of the print. So if the bleed margin is 0.125″ outside the edge, the safe zone will be 0.25″ inside the edge. Keep all important text and artwork at least this far away from the edge of the finished print.
But wait, why is it double the size of the bleed margin? Why keep things 0.25" inside the edge if the trimming might only reach 0.1"? This is an aesthetic recommendation. Lets say you have a fancy border that runs 0.1″ from the edge of the page. If the print shifts 0.1″ in one direction, one side will be 0.2″ away from its edge and the other is practically trimmed off. A very noticeable issue.  However, if the border was 0.25 from the edge, a difference of 0.35″ and 0.15″ is easier to overlook for an average viewer.
Is that all?
That's the bare minimum to design for successful full-bleed printing. To help ensure a perfect print and if you have the known-how, be sure to include trim marks in your file. These are easily created if you are designing with professional software like from the Adobe Creative Suite. Check with Adobe help forums to learn how to do that or drop us a line and we'll be more than happy to answer your questions. If you aren't sure how to make a crop mark, don't worry. Just make sure your file is set to the correct size and you let us know what the intended size is going to be. Our printing software can add in those marks for you.
Helpful Resources