About Lemon Press Printing
Printing for a Cause

– In addition to the high quality and competitive prices, 95% of our printing is created as part of a job preparation for people with mental illness

Higher Quality Paper and Printing

– This is not the low resolution printing of most online printers. We only accept high-quality paper and printing technology to ensure your color really shines.

Faster Turn Around

– No need to wait over a week. Most print orders are completed and turned around within 2-3 business days.

Local Deliveries

– Dupage Addresses Only: Once your order is completed, we'll confirm when you will be available and will deliver your package directly to your business.

Competitive Prices

– We've cut out unnecessary expenses to offer exceptionally prices for high quality print.
Short answer: Definitely. Long answer: Our services and delivery procedures are focused towards businesses and organizations but all customers are welcome.
One of the most important aspects of Lemon Press Printing is our ability to partner with the NAMI DuPage Rise & Shine Print Shop to produce 95% of our printing. When we did so, we decided not to have a separate and redundant printing location. If you need to speak to one of our print/media consultants face-to-face, we can schedule an appointment either at your organization, place of business, or at the NAMI DuPage Print Shop itself.
Hardly. When you buy a house, you don't pay a realtor extra to find the perfect home while making sure the entire transaction goes smoothly. Instead, they take their commission from the seller's cut. Our trade partners work on the same principle. Printers like us LOVE working with other printers and usually offer wholesale pricing to them that is not otherwise available to the public. Our clients should never pay more than the retail price you'd pay if you tried to purchase it yourself. What you gain is having a friendly print expert who will handle your order for you, check the proofs, and follow up with the printer to make sure it's done quickly and correctly.
Our Founder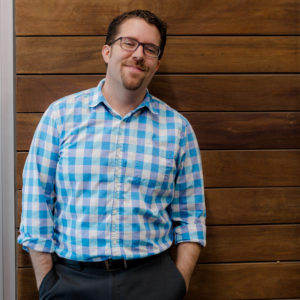 Marion Neal
Marion has worked full-time in the print industry in account management, production, and administrative capacities since 2003. In 2016, he formed Lemon Press Printing to fulfill a gap in the market for a print service provider that combined the best of a local digital shop and the online print capabilities. Driven by his psychology background, he partnered up with NAMI DuPage to provide the same great service but also assist NAMI's employment support program. Together, Lemon Press and NAMI have formed a one-of-a-kind print provider.